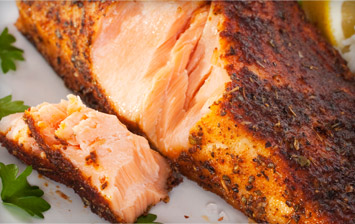 Ingredients
4 salmon steaks (150-200g each)
1 tsp dried oregano
1/4 tsp paprika
1/4 tsp dried thyme
1/4 tsp black pepper
1/4 tsp cayenne pepper
Olive oil spray for greasing

Method (Serves 4)
Preheat your Russell Hobbs grill to MEDIUM/HIGH.
Combine the spices, pepper and dried herbs in a bowl. Coat the salmon steaks with the herbs and spices mix.
Spray your Russell Hobbs grill lightly with olive oil cooking spray, then place the salmon on the grill. Cook for 2-3 minutes either side and rest for 5 minutes before serving.
Serve with boiled potatoes, a fresh garden salad and a huge squeeze of fresh lemon.