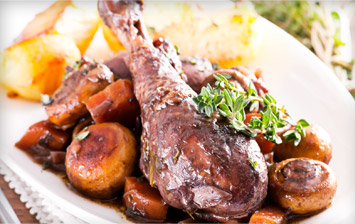 Ingredients
4 chicken thigh fillets, skinned and halved
4 chicken drumsticks
1 tbs extra virgin olive oil
50g flour
100g bacon, diced
4 cloves garlic, sliced
1 onion, diced
1 cup chicken stock
1 cup red wine
2 tbs tomato paste
200g button mushrooms, whole
1 bay leaf
2 cloves
6 sprigs fresh thyme
Salt and pepper to taste
8 baby carrots, peeled and quartered

Method (Serves 4-6)
Preheat the slow cooker on HIGH for 20 minutes.
Meanwhile, coat the chicken in half of the flour. Heat the oil in a large fry pan and fry the chicken on all sides until brown. Transfer to the slow cooker.
Sauté the bacon, garlic and onion in the same pan to soften (don't brown the bacon). Turn the heat up, add the mushrooms then stir in the remaining flour and the other ingredients.
Bring to the boil, stirring continuously, and then pour over the chicken in the slow cooker. Cook on HIGH for 4 hours or LOW for 8 hours, or until cooked. Remove the bay leaf and cloves before serving.
Serve with creamy mashed potato and steamed seasonal vegetables.