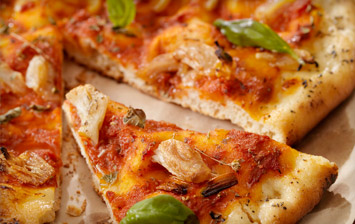 Ingredients
250ml water
525g strong white bread flour
1½ tblsp olive oil
1½ tsp dried yeast
1½ tsp sugar
1½ tsp salt

Method
Sift the flour into a large bowl.
Add the yeast, sugar and salt. Add the water and oil. Mix at low to medium speed with dough hook beaters till the dough is smooth.
Cover the bowl with a damp cloth and put it somewhere warm till it doubles in size (one hour).
Knead by hand for a few minutes.
Cut the dough in half. Roll the dough into circles on a floured surface. Put the circles on a non-stick baking tray.
Spread the circles with a tomato based sauce and add toppings.
Bake in a pre-heated oven at 220°C for 18-20 minutes. The surface should be golden brown and the base nice and crisp.