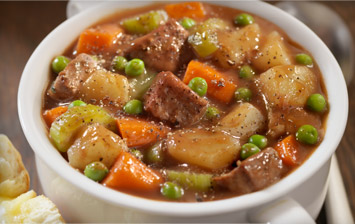 Ingredients
2tbs olive oil
3 carrots, peeled and diced
2 celery stalks, diced
3 large potatoes, peeled and diced
1 large onion, sliced
1½kg of beef, cubed
500ml beef stock
1 can (400g) of diced tomatoes
2tbs tomato paste
1 tsp dried thyme
1 bay leaf
½ tsp whole black peppercorns
1 cup frozen baby peas
1/2 cup fresh parsley, chopped
Salt and pepper to taste

Method (Serves 6)
Pre-heat the slow cooker on HIGH for 20 minutes.
Meanwhile, in a large frypan, heat the olive oil and brown the beef in small batches over high heat for a couple of minutes.
Layer carrots, celery, potatoes and onions in the bottom of the slow cooker bowl. Then top with beef, bay leaf and black peppercorns.
Stir in the stock, tomatoes, tomato paste and thyme.
Place the lid on the slow cooker and cook for 3-4 hours on HIGH or 7-8 hours on LOW.
Stir in the peas 15 to 20 minutes before serving and cook on HIGH.
Taste and adjust seasoning, stir in the parsley and remove bay leaf before serving.