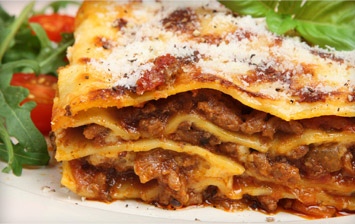 Ingredients
10 fresh lasagne sheets
2tbs extra virgin olive oil
20g butter
1 large onion, chopped finely
1 large clove garlic, crushed
1 bay leaf
1 cup fresh parsley, chopped
500g mince
1 tbs dried oregano
Salt and pepper to taste
Freshly ground black pepper to taste
4tbs tomato paste
olive oil spray for greasing
For the cheese sauce:
25g butter
25g flour
300ml milk
Salt & pepper to taste
100g grated cheddar cheese
Shredded parmesan cheese

Method (Serves 4-6)
Pre-heat your Russell Hobbs Slow Cooker on HIGH for 20 minutes, and then grease the inside of the slow cooker bowl with olive oil spray.
Heat the oil and butter in a large frypan and sauté the onion and garlic until transparent. Add bay leaf, parsley, mince and oregano and cook for a further 5 minutes, stirring constantly. Season with salt and pepper and add the tomato paste. Set aside.
To make the cheese sauce, heat the butter in a pan and stir in the flour. Add the milk gradually, stirring well.
Bring slowly to a simmer, constantly stirring as it thickens. Season with salt and pepper, add the cheese and stir until melted through. Remove from heat.
Layer the mince, pasta and cheese sauce in your Russell Hobbs Slow Cooker, finishing with a layer of cheese sauce. Sprinkle Parmesan on top and cook on LOW for 4 - 5 hours, or until cooked.
Serve with garlic bread and a garden salad. Bellissimo!