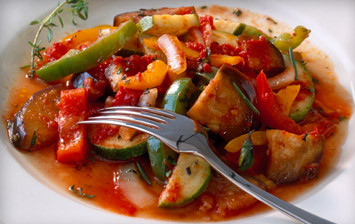 Ingredients
1 large eggplant
2 tsp salt
1 tbs extra virgin olive oil
20g butter
4 sprigs fresh thyme
2 onions, chopped
1 clove garlic, crushed
1 green pepper, thickly sliced
1 red pepper, thickly sliced
3 zucchini, thickly sliced
400g canned chopped tomatoes
3 zucchini
1/2 tsp pepper
Pinch of saffron
1 tbs balsamic vinegar
1 tbs tomato paste

Method (Serves 4)
Pre-heat your Russell Hobbs Slow Cooker on HIGH for 20 minutes.
Dice the eggplant and sprinkle with salt. Leave for half an hour, rinse and pat dry.
Meanwhile, heat the oil and butter in a large fry pan and cook garlic, onion and thyme until soft. Stir in peppers and zucchini and cook for 1 minute, then transfer to the pre-heated slow cooker.
Add all remaining ingredients and cook on LOW for 4 hours. Season to taste.