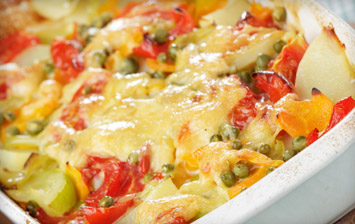 Ingredients
1 red pepper
2 large carrots
2 zucchini
2 onions
2 potatoes
1 cup peas
250g cheddar cheese
5 eggs
125ml vegetable oil
½ tsp cumin powder
Pepper
150g self raising flour
200g feta cheese (crumbled)
100g rocket leaves or baby spinach leaves

Method (Serves 6)
Preheat oven to 170°C.
Line a non-stick 20 x 30cm oven tray with baking paper including the sides.
In your Russell Hobbs Food Processor, slice the red pepper. Slice the carrot, courgette, onion and potato. Grate the cheddar cheese. Transfer into a large bowl and mix through the feta and rocket.
Place eggs, vegetable oil, cumin powder and pepper into the bowl and blitz to combine. Add the self raising flour and then pour into the vegetable mix.
Pour into the prepared oven tray and cook in the oven for 45 minutes or until golden brown.