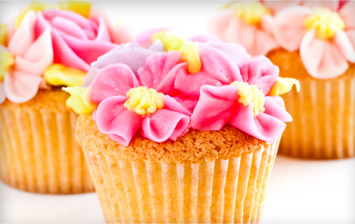 Ingredients
125g butter, softened
225g castor sugar
3 eggs
200g plain flour
1 tsp baking powder
190ml milk
1 tsp vanilla

Method (Serves 12)
Pre-heat oven to 160°c (180° fan forced). Place cupcake papers into mini or regular muffin tins.
Using your Russell Hobbs Hand Mixer, cream the butter and half the sugar until the batter becomes creamy, add remainder of sugar and continue beating. Add eggs singularly, beating well after each addition.
Sift together flour and baking powder. Add to the creamed mixture with the milk and vanilla, mixing on a low speed until combined.
Spoon mixture into paper cups approximately ¾ full. Bake for 18-20 minutes or until the top springs back when lightly touched.
Allow to cool completely before decorating.