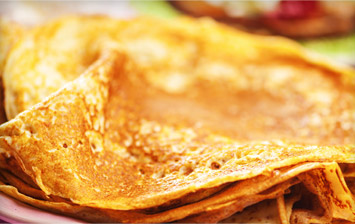 Ingredients
125g plain flour
2 tbsp caster sugar
3 eggs
320ml milk
40g melted butter
2 tbsp sweet liqueur (suggest Cointreau)

Method (Makes 8-12)
Sift flour into a bowl, add the caster sugar. Beat together eggs and milk, pour gradually into the flour, whisk until mixture is light, and then stir in the butter and liqueur. Transfer the mixture to a jug.
Pre-heat your Russell Hobbs Hot Zone Grill or Electric Frypan to medium heat. Pour about 1/4 cup of crepe mixture onto the surface, spreading quickly and evenly to create a thin crepe. As soon as crepe browns lightly, turn over with a spatula and cook the second side.
Roll crepes or fold into quarters and serve with fresh berries, creme fraiche or a drizzle of cream and honey.