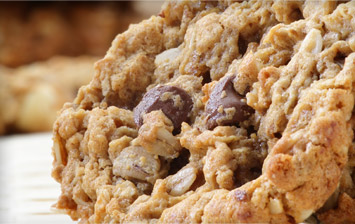 Ingredients
125g butter, softened
200g brown sugar
1 egg
190g self raising flour
125g mixed nuts, chopped
90g chocolate chips

Method (Makes 24)
Preheat the oven to 170°C. Line 2 baking trays with baking paper.
Chop the butter and place into a bowl with the sugar. Starting at a low speed, use your Russell Hobbs Hand Mixer to cream the butter and sugar until mixture is light and creamy.
Stir in the beaten egg and then gradually stir in the flour, choc chips and nuts. Mix thoroughly until combined.
Place tablespoon size balls of mixture on the baking tray (allow some space for spreading!) and bake in the oven for 15 - 20 minutes or until nicely browned.
Allow to cool for 5 minutes on the trays. Transfer onto wire racks to cool completely before storing in an airtight container.