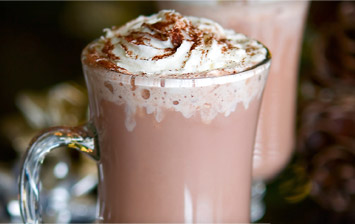 Ingredients
1 ½ litres full cream milk
3 cinnamon sticks
4 cloves
75g castor sugar
125g pure dark chocolate, broken into pieces
1 tsp vanilla
For meringue topping:

Method (Serves 6)
To make the meringue, beat the egg whites using your Russell Hobbs electric beaters. When stiff, gradually add the sugar. Beat until very stiff.
Pour the milk into a saucepan, add the spices and simmer gently for 8 minutes without allowing the milk to come to a full boil.
Strain some of the hot milk into your Russell Hobbs Blender, add the broken chocolate. Start on low speed and then increase to high speed as the chocolate melts. Blend thoroughly and return to the saucepan with the remaining milk and sugar. Discard the cinnamon sticks and cloves.
Gently simmer whilst stirring constantly until chocolate has completely dissolved and mixture has thickened slightly. Add vanilla and stir thoroughly.
To serve, pour the chocolate into large cups, place a large dollop of meringue on top and sprinkle with dark chocolate. Yum!