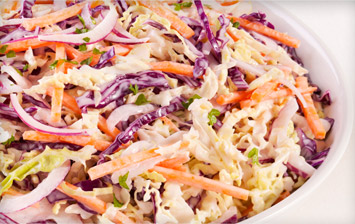 Ingredients
½ medium white cabbage
1 wedge purple cabbage
1 red onion
2 carrots, peeled
4 radish, trimmed
1/2 cup whole egg mayonnaise
1/2 cup sour cream
1 tbsp red wine vinegar
1tbs lemon juice
Salt & pepper, to taste

Method (Serves 6-8)
Using the slicing blade of your Russell Hobbs Food Processor, slice the cabbages and onion. Transfer to a large bowl.
Replace the slicing blade with the grating blade and grate the carrots and radish. Add to the cabbage mix.
Replace the grating blade with the chopping blade and process the mayonnaise, sour cream, vinegar, lemon juice, salt and pepper. Pour this over the coleslaw, cover and refrigerate until ready to serve.