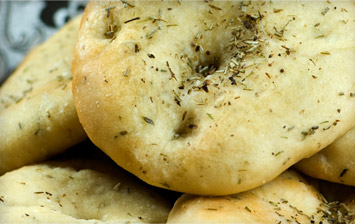 Ingredients
575g strong white bread flour
1 sachet active dried yeast (14g)
280ml lukewarm water (30°-35°C)
2 tbsp olive oil
2 tsp sugar
2 tsp salt
4 tbsp Italian dried herbs

Method (Makes 3 small loaves)
Mix the water, oil, sugar, salt and yeast in a jug, and leave for 5 minutes.
Put the flour and dried herbs in the bowl of your Russell Hobbs Bench Mixer. Mix on low speed with dough hook and gradually add the liquid, then increase speed to medium and mix for 4 minutes.
Remove the mixing bowl, cover with a clean tea towel and leave in a warm place to double in size (20-30 minutes).
Turn onto a floured surface, knead gently to knock out the air. Portion and shape the bread, place on a baking sheet, and leave in a warm, dry place for a further 30 minutes.
Bake in a preheated oven at 200°C for 25 minutes or till light golden brown and hollow sounding on the bottom.