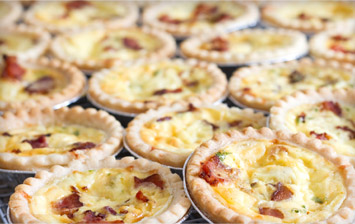 Ingredients
1 - 2 sheets of frozen butter puff pastry, just thawed
2 eggs
2 tbsp milk
2tbs parmesan cheese, grated
1 small spring onion, finely sliced
1 slice ham, diced
1/4 cup chopped parsley
Salt and pepper, to taste

Method (Makes 12)
Preheat your Russell Hobbs toaster oven to 160°C with both top and bottom elements on. Grease a mini-muffin pan with cooking spray.
Using a 5 cm round cutter, cut 12 rounds of just thawed pastry and tuck into the prepared mini-muffin pan, making sure they are all the way to the bottom.
In a large jug, whisk together the egg, milk and parmesan cheese. Stir in all remaining ingredients.
Carefully pour the egg mix into each pastry case almost to the top.
Place in your Russell Hobbs toaster oven and bake for approximately 12-15 minutes or until filling is just firm. Serve warm.