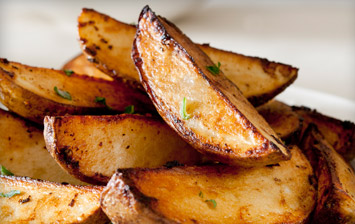 Ingredients
6 medium sized, unpeeled potatoes such as Desiree or Sweet Potato
Canola or vegetable oil for deep frying
Sea salt flakes, to taste
Sweet chilli sauce and sour cream to serve

Method (Serves 4)
Cut the potatoes into quarters and steam until 'just' tender.
Drain well and set aside to cool. Ensure the potatoes are dry before frying.
Preheat oil in your Russell Hobbs Deep Fryer to 190°C. Arrange potatoes in the basket and cook for 3 - 5 minutes or until crisp and golden. Fry in batches to avoid overcrowding the basket.
Tilt basket and allow to drain for a couple of minutes. Place onto a plate with absorbant paper until finished.
Transfer to a serving plate, sprinkle with sea salt flakes and serve with a side of sweet chilli sauce and sour cream. Yum!