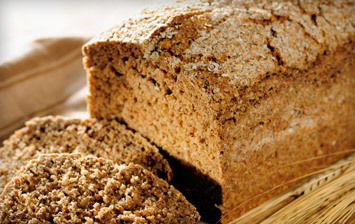 Ingredients
525g strong wholemeal bread flour
2½ tsp active dried yeast (1 sachet)
345ml warm water
1 tbsp sunflower oil
1 tbsp brown sugar
2 tsp salt

Method (Makes a 1kg/2lb loaf)
Sift the flour into the bowl of your Russell Hobbs bench mixer with dough hook attached. Add the yeast, sugar and salt. Add the water and oil. Mix at a low to medium speed till the dough comes together in a smooth ball. Take the bowl out and cover with a damp cloth and rest it somewhere warm till it doubles in size (one hour).
Turn out onto a lightly floured work surface and knead by hand for a few minutes. Put it in a 1kg loaf tin, cover, and put it somewhere warm for another 30 minutes.
Bake in a pre-heated oven at 200°C for 20-25 minutes. The surface should be golden brown. The bottom should sound hollow when tapped.